About Us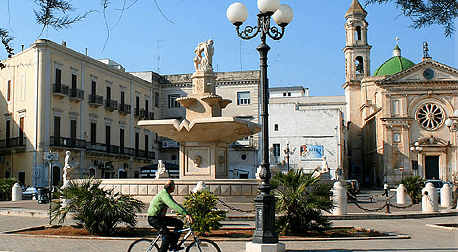 Welcome to our home! That's what we at Piazza Mia want you to feel when you walk into our restaurant. After all, we are a family owned business and have been serving traditional Italian cuisine for the past 25 years. Our love for quality food and fresh ingredients stems from the port side town in Italy where our family is from. As first generation American-Italians, we worked diligently to bring our traditions to the table. We started out in the pizzeria business and currently own nine Nino's Pizza restaurants. The inspiration for our new venture, Piazza Mia, is based on authentic Italian recipes, just like we would cook at home. So…
Come in to Piazza Mia and take a trip back to the old country. Our family-friendly atmosphere lends to a casual dining experience with a Mediterranean flair. A breathtaking back lit wall mural of the Trevi fountain in Rome makes you feel like your dining right in the middle of the piazza and the trickling fountain in the center is perfect for a romantic table for two or a big Italian style family get together.
Enjoy our classic Neapolitan style brick oven pizza or try one of our traditional pasta dishes such as Eggplant Fiorentina or Lasagna Mia. Also a favorite is the succulent gourmet Lobster Ravioli and Tortelloni della Nonna. House favorites such as the irresistible Filet Oscar, Salmon Marechiara, or Pan-Seared Scallops with Risotto are always sure to please any palette.
Our full service bar is perfect for happy hour or watching the game on one of our flat screen tv's. Choose a wine from our extensive wine selection or have some fun and go for our signature Gela-tini. Feeling a little stuffed after your meal? Order a digestive apperitivo as an ideal after dinner drink.
Whatever you do, don't forget to save room for dessert and indulge in our Tiramisu, our decadent Brulee Cheesecake or savor a Gelato from our gelato bar just like they do in the piazzas in Italy.